Thessaloniki to Neos Marmaras – Halkidiki – Private Day Trip
€240.00
Thessaloniki to Neos Marmaras, Sithonia – Halkidiki – Private Day Trip
From 240€
WITH LUXURY CAR: From 1 to 4 persons: 240€
WITH LUXURY MINI VAN: From 5 to 8 persons: 480€
Departure Time from Thessaloniki at 09:00
Returns to original Pick up point at 19:00 (approx.)
The program of the excursion can be adjusted always according to the requirements of the passengers.
Description
Thessaloniki to Neos Marmaras – Halkidiki – Private Day Trip
Discover Halkidiki with Hello Thessaloniki.
Inclusions
Pick up and drop off service from your hotel in Thessaloniki
English-speaking tour leader
Transportation by air-conditioned V.I.P. car or mini van
Professional chauffeur
Wifi on board (free)
Bottle of water and coffee during the route (free)
After the trip you will receive with email edited photos and video of your trip.
Exclusions
Gratuities (optional)
Guide who speaks your language
Entrance fees
Additional info
Participants under the age of 12 must have a parent or guardian.
Because there are many sights worth seeing but a day trip is not enough to visit all of them, before starting the trip we will present to you all possible sights to choose the one that you are more interest for.
There are many beautiful sights. You are encouraged to bring a camera along. But if you don't… we have a camera for you!
Weather will not affect the operation of the tours.
However if canceled due to unfavorable weather conditions, you will be given the option of an alternative date or full refund
Pick up from your hotel in Thessaloniki
Departure time: 09:00 am
Duration: 10 hours (approx.)
Return details: Returns to original Pick up point
ABOUT NEOS MARMARAS
Neos Marmaras is the largest seaside village in the second peninsula of Halkidiki, Sithonia. It is the most cosmopolitan place in Sithonia and every year thousands of tourists visit and are enjoying the beautiful beaches, the beautiful scenery, the nature of the surrounding mountains, the nightlife and the romantic walks on the streets with a view of the small island Kelifos, the first peninsula of Halkidiki, and the mountain of Gods, Olympus.
Neos Marmaras is approximately 120 km away from Thessaloniki and has 3,500 permanent residents who are mainly engaged in tourism, fishing, and beekeeping. In Neos Marmaras you will find a police station, post office, bank, private clinics, regional public clinic, pharmacy, port authorities, fire brigade, and other services. The commercial center of Neos Marmaras has many shops as Super Market, fish markets, fur shops, stationery gifts, etc. from where you can buy what you may need. During the summer, the floating port of Neos Marmaras operates and serves the needs of many vessels and boats. Also from Neos Marmaras, there are daily boat rides to Mount Athos. Many nature lovers visit the area for the flora in Itamos or for the Dragoudelis, the mountain over Neos Marmaras. You may encounter deer, roe deer, foxes, wild boars, and other animals on this mountain.
Apart from the beach of Porto Karras, near Neos Marmaras, there are other beaches worth visiting, starting from the crowded beach of Ai Giannis with its famous beach bars. Just a few kilometers away you can find the unique Spathies beach, Akti Koviou beach, Akti Kalogrias beach, Lagomandra beach, Akti Elias beach, Paradeisos beach and Tristinika. To get to these beaches, you will need a car or a motorbike. If you are on foot, then the beach in the southern part of Neos Marmaras would be an excellent choice that will remain memorable.
On the mountain over Neos Marmaras at a distance of 5 km is the traditional village Parthenonas at an altitude of 350 meters. It is a historical village with stone houses and cobbled streets with lovely views. In the village of Parthenonas, you can visit the church of St. Stephen which was built in 1837, or you can visit the folklore museum. We suggest you spend an afternoon visiting the village to taste traditional culinary specialties and enjoy the sunset.
Summary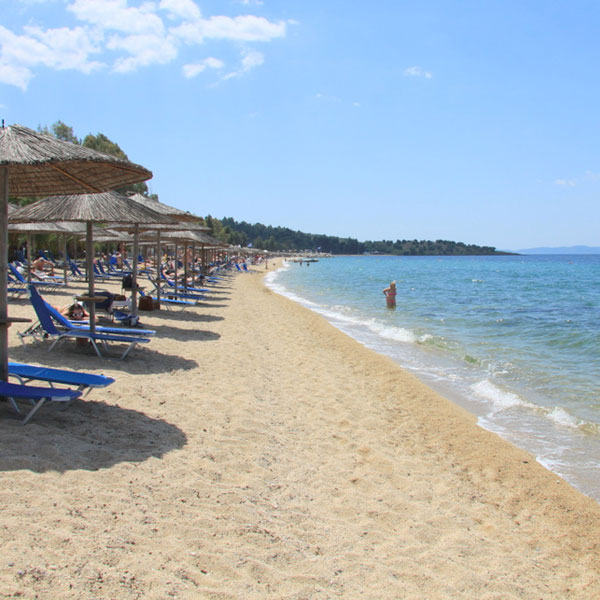 Service Type
Thessaloniki to Neos Marmaras - Halkidiki - Private Day Trip
Provider Name
Hello Thessaloniki
,
Thessaloniki
,
Telephone No.+306907798620
Area
Neos Marmaras, Sithonia, Halkidiki
Description
Neos Marmaras is the largest seaside village in the second peninsula of Halkidiki, Sithonia.